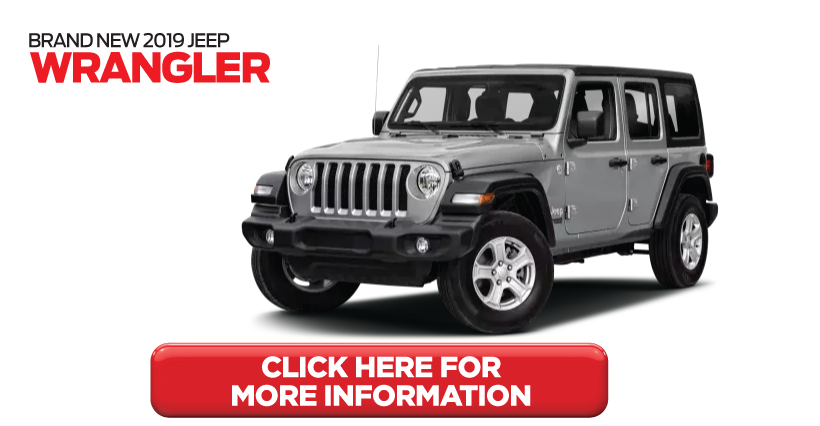 Jeep Wrangler: Your Key to Adventure
The Jeep Wrangler is an instantly recognizable icon no matter where you go. The Wrangler excels off-road, but it also does a great job on daily drives around town or in poor weather conditions. The Wrangler is one of Jeep's Trail Rated SUVs, meaning that is has been rigorously tested to prove that it can tackle all types of terrain without an issue. Of course, you can also opt for a feature-filled trim if you prefer to take advantage of the latest features and styling. Keep in mind that the Jeep Wrangler models will have two doors, while the Wrangler Unlimited has four doors, so make the appropriate decision to match your needs. Speaking of meeting your needs, there are a total of nine trim levels when you factor in limited or special edition models, ensuring that you should have no problem balancing features and budget in your choice of configuration. Drivers who are looking for the best trail rated vehicle consider the Jeep Wrangler at the top of their list.


History of the Jeep Wrangler
The Jeep Wrangler has come a long way throughout the years after starting as an alternative to the Willys CJ. The model it was based on was designed for off-road military use, while the Wrangler aimed to combine off-road capabilities with on-road friendliness and daily driving capabilities. It had a lower clearance, wider stance, and more comfortable interior than the CJ it was based on. It still had exterior styling to mimic the other SUV, but with a new grille, rectangular headlights, and a bigger windshield. The first Wrangler was referred to as the YJ and had the choice of a two-door truck or convertible. Engine options included a 117-horsepower 2.0-liter 4-cylinder and a 112-horsepower 4.2-liter 6-cylinder. There was also the choice of two gas tanks and four transmissions.
During the early years, there was an available Islander Package with cup holders in the center console, extra body trim, alloy wheels, and high-back seats. The Renegade Package added power steering, a leather-wrapped steering wheel, and other upgrades from 1991 to 1994. A new, more powerful V6 engine became available in 1991, and a year later, the roll cage was extended. 1996 began the Wrangler's second generation with a more comfortable ride, a revised soft top, and round headlights. The Wrangler Rubicon arrived in 2004 to enhance off-road capabilities and the Wrangler received other updates to become the model you recognize today.
Experience Quality Service at Chris Myers in Daphne, AL
For the serious driver in need of a vehicle that is unmatched in trail ruggedness, the Jeep Wrangler is the only answer. It's fun to drive with plenty of factory features and aftermarket upgrades, catering to a variety of tastes. If you would like to view an extensive selection of Jeeps and other models, then visit the team at Chris Myers Dodge Chrysler Jeep. Our expert professionals will happily show you the different available models, their trims, and their features. We can answer all your questions and show you the various configurations that are available, helping you select the perfect one. To keep the process simple, we offer financing for many credit situations, right here at our dealership. We encourage you to schedule regular maintenance with our certified mechanics at our Service Center as well. For a wide range of new, certified pre-owned, and used vehicles, stop by our dealership today.