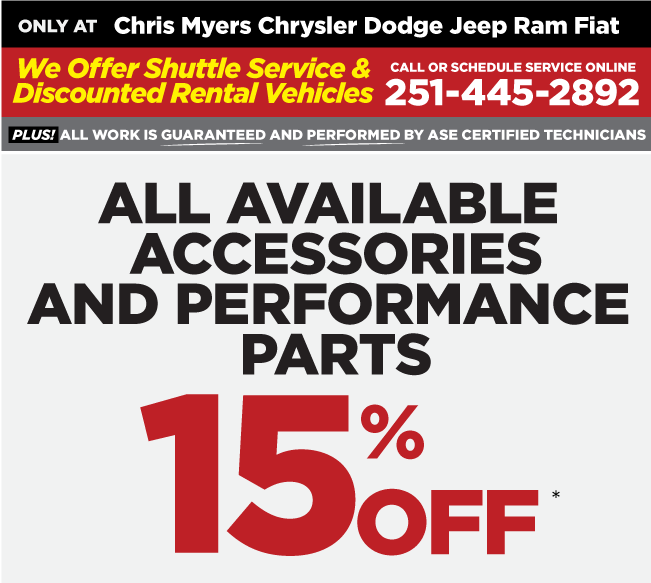 *Inspection of these and additional items not listed: tires/tire pressure. Windshield wipers. Exterior lamps. Cooling system mixture/leaks. Air filter. Fluid levels. Belts/hoses (excludes timing belt). Price does not include repairs, which may be required after inspection. Must present the original coupon upon arrival for initial service. Customer is responsible for local tax and Shop Supplies fee. Valid for most makes and models. See Service Advisor for complete details. ©2020 FCA US LLC. All Rights Reserved. Chrysler, Dodge, Jeep, Ram, Mopar, SRT and HEMI are registered trademarks of FCA US LLC. FIAT is a registered trademark of FCA Group Marketing S.p.A., used under license by FCA US LLC. Expires 12/31/2020. 
Hours of Operation:
Mon - Fri: 7:30AM - 6:00PM
Sat: 7:30AM - 7:00PM
Sun: Closed

Department Address:
Chris Myers CDJR
27161 HWY 98
Daphne, AL 36526

Contact Information:
Call 251-445-2892
or Text: 251-583-2249 for your
next service appointment.
For service desk use only:
Redeemed:   ____/____/_____
Received by:   _____________
Approved by:   _____________