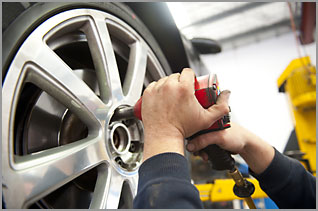 Chris Myers CDJR has a great Service Department that offers brakes, oil change, and tires service and repair in Daphne, AL. We have several different options when it comes to Chrysler, Dodge, Jeep, and RAM tires to put on your new or used vehicle.
Make Tire Maintenance a Priority
You need your tires in the best shape to get you where you need to go! Regular tire maintenance is a part of your vehicle's service schedule. Besides tire rotation and alignment, tire repair and replacement are necessary aspects of tire care that maximize the life and use of your tires.
Purchase Tires at Chris Myers
Buying Chrysler, Dodge, Jeep, or Ram tires is a significant purchase and we are honored you are considering Chris Myers CDJR in Daphne, AL. Our service professionals will make sure your wheels and rims are back on the road in no time.
If your Chrysler, Dodge, Jeep, or Ram vehicle needs new tires, feel free to contact us or use our online form to schedule an appointment. Once we learn about your car's needs, we will be able to give you a cost estimate and expected time that we will be finished. Visit us for all your tire replacement and tire repair needs today.